Posted on March 29 2023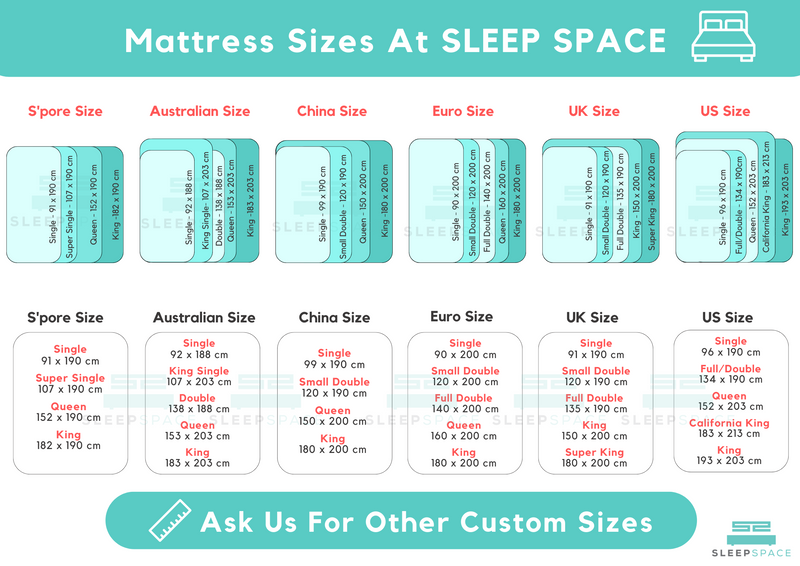 Many people do not realise that there are many different dimensions of mattress sizes available. The Singapore Queen size is different from the Euro Queen and it will be very stressful if a mattress is delivered and it does not fit your bed. 
Mattress retailers in Singapore will not keep stock of non Singapore size mattresses. They will be produced upon order only. We highly recommend everyone to be sure of the exact dimensions they require before putting in an order as a return and refund is going to be extremely unlikely if it was custom made for you. 
We have compiled the dimensions of the various sizes we offer, as shown in the illustration above. 
Below are more images that may help you visualise this better.
Singapore Size Mattress
 Australia Size Mattress
China Size Mattress
 Euro Size Mattress
UK Size Mattress
US Size Mattress
At Sleep Space, we offer the widest range of mattress sizes. If you are looking for Australia, China, Euro, UK or US size mattresses, we have a good selection that you can consider on our online store. 
Click Below For Size You Looking For 
If you would rather test it out personally, drop in at the Sleep Space Experience Studio: 
Sleep Space Experience Studio
37 Lorong 23 Geylang, #04-06, Yu Li Industrial Building, Singapore 388371