Posted on March 27 2023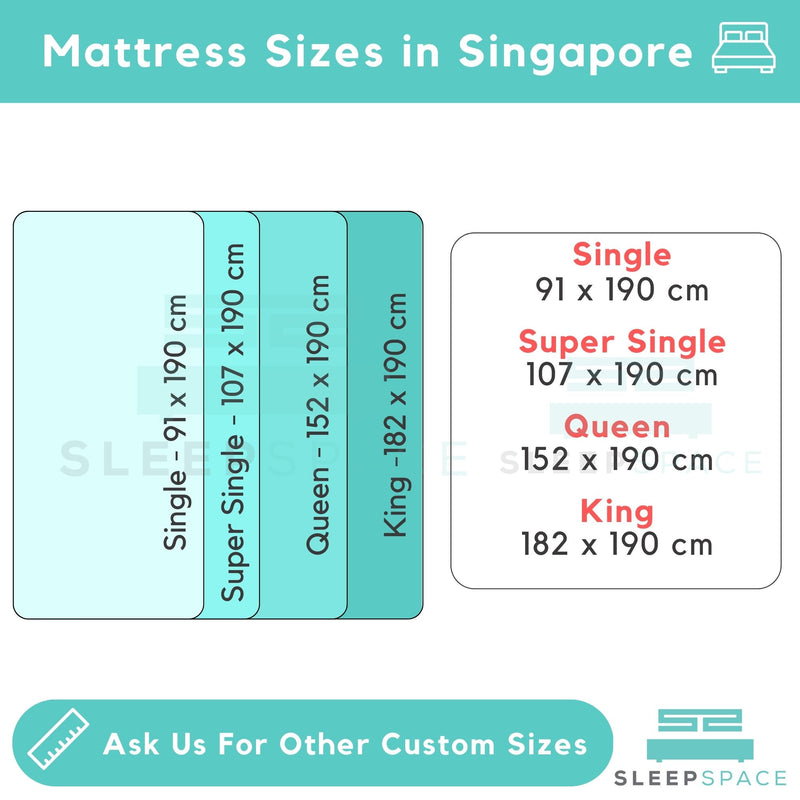 It comes as a surprise to many people that there are so many different mattress sizes and that mattress sizes vary from one country to another. We often get calls from customers who bought a bedframe from overseas or through online sellers who bring in beds from China, America or Europe or even from Ikea without realising that the mattress dimensions are different from Singapore. 
In Singapore, our 4 standard sizes are Single, Super Single, Queen & King. Above you will see our size chart that can help you visualise better. 
Singapore Single 
91 x 190 cm - Sleeps one person
Singapore Super Single 
107 x 190 cm - Sleeps one person
With 16cm more width than the Single, this is more comfortable and suits someone who may tend to turn from one side to another during the night. With the extra room, they can turn from side to side without having to constantly shift their position as compared to sleeping on a Single mattress.    
Singapore Queen
152 x 190 cm - Sleeps 2 Persons  
The Queen size mattress is the most popular mattress size in Singapore. It fits 2 adults comfortably.    
Singapore King
182 x 190 cm - Sleeps 2 Adults / 2 Adults + 1 child  
The King size mattress at 182 cm wide is the same as 2 Single mattresses joined together. Even though this would probably be preferred by many, especially if you have a partner who may cross that invisible center line and take up space on your side! However, space limitation often prevents many from "upgrading" to a King size mattress. For those of you who are buying a bed frame, do always confirm with the seller what size mattress it fits.  At Sleep Space, all our mattresses are in Singapore Standard size. But for those who are looking for other sizes, you will be glad to know that we have the largest range of sizes available; from Australia, China, Euro, UK & US sizes. We also can produce custom size mattresses and beds.
Chat with us today. 
Click Below For Size You Looking For