Posted on May 20 2021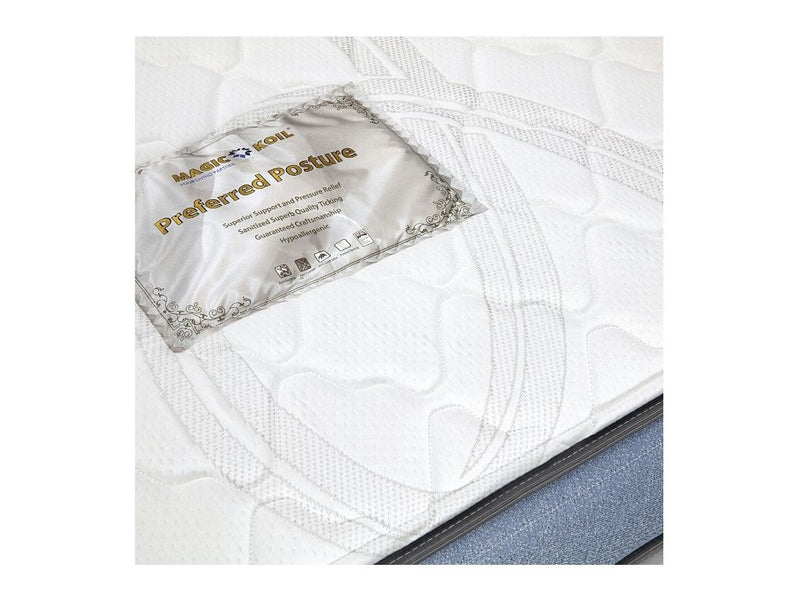 Magic Koil Preferred Posture Pocket Spring Mattress is the latest model to be rolled out exclusive to Sleep Space. 
What we love about it
Price: $ 
For a pocket spring mattress by a leading local mattress manufacturer, the price point is really attractive!
Single - $499
Super Single - $569
Queen - $699
King - $889
*Prices listed above accurate at time of publishing (please check here for most updated prices) 
Firmness: 8/10 
This is a firm mattress at 8/10 but there is a nice padded feel to it at the same time. We have tested several other firm mattresses but they do not cushion well and we were even able to feel every single spring! Not the Magic Koil Preferred Posture Pocket Spring Mattress though. 
Lying on the back, it supported the spine and pelvis very well. There was no sinking in the pelvis (which is the heaviest part of our body). 
Lying on the side, the biggest concern with firm mattresses are the shoulders feeling compressed. 
The Magic Koil Preferred Posture Pocket Spring Mattress surprisingly didn't do that. The well padded top layer allowed the shoulders to be well supported but not compressed or squashed. 
Sitting on it - For those of us who spend a decent amount of time sitting on our beds working on our laptops, reading, surfing or watching our favourite k drama, we know how the softer mattresses do a terrible job at this and a major cause of back ache. 
Our experience with this mattress working with a laptop for the past 50 minutes, is that it does a good job to support our weight in a sitting position. No complaints of back ache so far.
Non Singapore size &  customised sizes 
It seems that more people are looking for mattresses that are not our standard Singapore sizes. Sleep Space is one of the only mattress sellers here in Singapore that cater to that market. 
You can get the Magic Koil Preferred Posture Pocket Spring Mattress made to US, UK or Euro size.
You can even get Sleep Space to customise it to any size you want (below 220 cm x 220 cm). The lead time is surprisingly fast at only 5 working days to produce a custom size mattress! 
Who the Magic Koil Preferred Posture Pocket Spring Mattress is recommended for:
This is a great mattress for someone who is looking for a wallet friendly pocketed spring mattress and prefers their mattress on the firmer side. 
Check out the Magic Koil Preferred Posture Pocket Spring Mattress