Posted on November 04 2023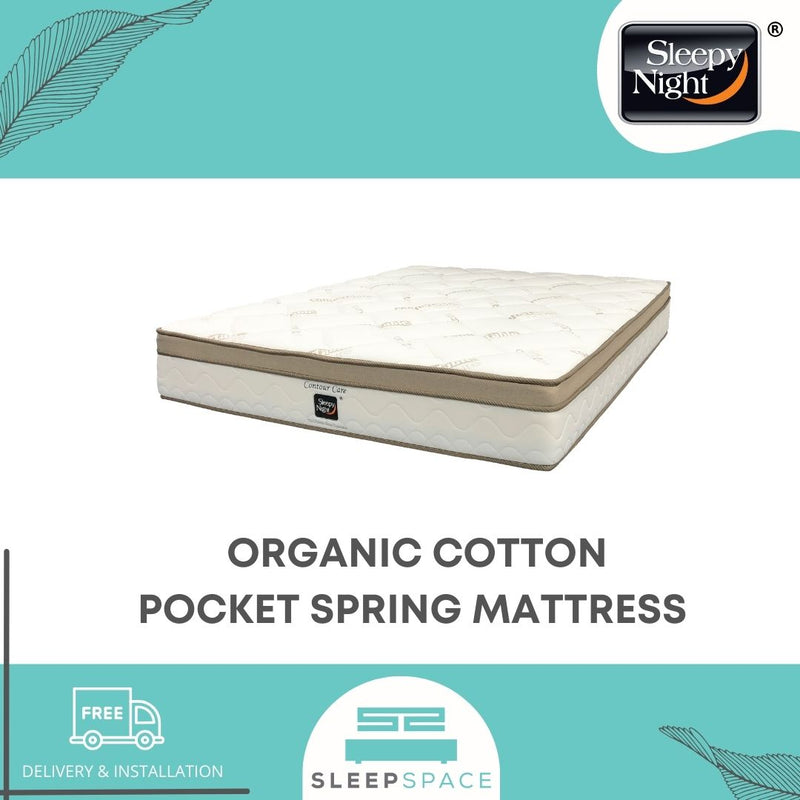 Sleepy Night Contour Care Organic Cotton Fabric At Sleep Space
Experience Comfort with a Cotton Fabric and Organic Blend Mattress
In the ever-evolving world of mattresses, the outer cover has taken center stage. With options ranging from Tencel to knitted fabric, cotton is emerging as a popular choice for its unparalleled comfort. Among these, the Sleepy Night Contour Care Pocket Spring Mattress stands out as a unique blend of natural fibers, combining the softness of cotton fabric with the innovation of pocketed springs. Discover why this organic cotton-knitted fabric mattress might just be the key to your ultimate comfort.
The Natural Blend of Cotton:
Cotton has long been celebrated for its natural beauty and comfort. The Sleepy Night Contour Care takes it a step further by integrating 100% organic cotton knitted fabric into its design. This luxurious material enhances the overall breathability and softness of the mattress, ensuring a comfortable and cool sleep experience.
Breathability and Temperature Regulation:
Cotton's natural breathability is complemented by the innovative design of individual pocketed springs. Together, they create a mattress that effectively regulates temperature, wicking moisture away from your body. Say goodbye to hot and sweaty nights, and embrace the cool and refreshing comfort of organic cotton.
Hypoallergenic and Healthy Sleep:
The Sleepy Night Contour Care isn't just about comfort—it's a commitment to your health. With anti-dustmite, anti-bacteria, and anti-fungal properties, this mattress is an ideal choice for those with allergies or sensitive skin. It provides a hypoallergenic haven where you can breathe easy and enjoy a restful night's sleep.
Durability and Eco-Friendly Choice:
Beyond its comfort features, the organic cotton fabric mattress is a durable and eco-friendly choice. The high-density support layer, coupled with the longevity of organic materials, ensures a mattress that lasts. By choosing this mattress, you're making an environmentally conscious decision, contributing to a sustainable lifestyle.
Support: 
The medium-firm support level caters to various sleep preferences, providing the perfect balance between plush comfort and essential support.
Visit Sleep Space Experience Studio:
To truly understand the luxury and innovation of the Sleepy Night Contour Care Pocket Spring Mattress, we invite you to our Sleep Space Experience Studio. Come and test this unique blend of organic cotton and pocketed springs, experience the softness of the fabric and explore the perfect balance of support. Our knowledgeable staff is ready to guide you towards the ideal mattress for your ultimate comfort.
Elevate your sleep experience with the Sleepy Night Contour Care—a harmonious blend of organic cotton fabric and cutting-edge design. Visit us today at Sleep Space and embark on a journey to unparalleled sleep quality.
Check out the Sleepy Night Contour Care Organic Cotton Mattress