Posted on October 03 2023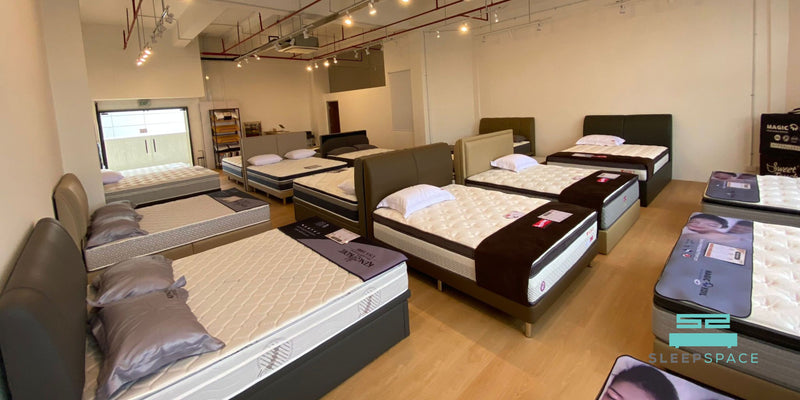 Sleep Space: Your One-Stop Shop for Mattresses in Singapore
Nestled in the concrete jungle of Singapore is a peaceful haven called Sleep Space — your go-to place for mattresses in Singapore. Sleep Space isn't just a shop but an experience (or rather heaven) to all those passionate about their sleep.
The Experience Studio
Sleeper's needs and tastes are catered for at this experience studio with their varying options. The range of mattresses include pocket spring, latex, memory foam, cooling mattresses and their exclusive kids mattress.
The knowledgeable staff at Sleep Space are more than just salespeople; they're sleep experts. They will gently walk you through the choosing process, ensuring that you leave with a mattress that is appropriate for your body type and sleeping style.
Quality Over Quantity
At Sleep Space, quality is paramount. Each mattress in the experience studio is a tribute to the quest of a good night's sleep.
Whether you prefer the luxurious plushness of a Euro-top or the firm support of a pocketed spring mattress, Sleep Space offers an extensive range to suit all budgets. You can be certain that every product on their shelves has been extensively researched and handpicked to give you the finest possible sleep experience.
Delivery and Convenience
Once you've found your dream mattress at Sleep Space, the convenience doesn't end there. Free delivery and disposal of our old mattress is also included. 
Community and Education
Sleep Space is not just a regular store. Their resident sleep consultant, Jacqueline, a certified Sleep Science Coach often shares many educational tips on better sleep as well as conducts free mattress consultation. 
Sleep Space is the greatest location for getting the right mattress in Singapore. It's more than just a mattress store with their experience studio, commitment to quality and personalised consultation; it's a paradise for all your sleep requirements.
Be sure to visit Sleep Space and discover the secret to truly restful slumber amidst the urban hustle and bustle. Your dream mattress is waiting.