Posted on October 03 2023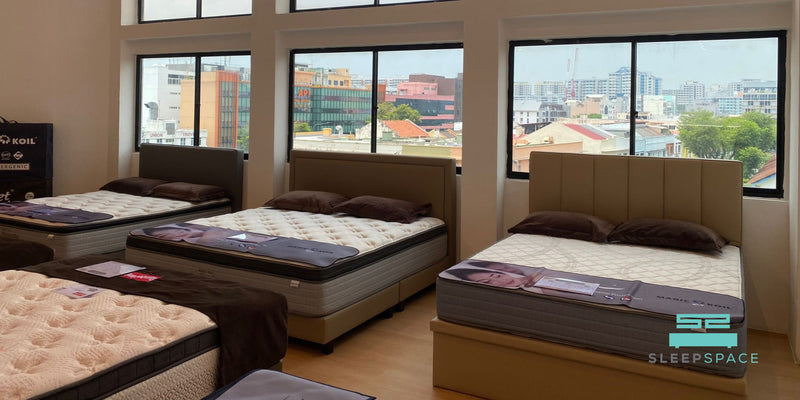 Finding the Best Mattress Shop in Singapore: A Comprehensive Guide
Do you want to find the top mattress shop in Singapore? It can be confusing because there are many options. Worry no more, since all of the information you want to select the top mattress shop in Singapore is available right here.
Types of Mattresses
There are many types of mattresses so it's good to be familiar to know what suits your preferences the most.  The following are the most prevalent mattress types:
Innerspring Mattresses: These mattresses are made with a steel coil support system. They are known for being durable.
Memory Foam Mattresses: Designed to gradually conform to the body in reaction to pressure, and therefore equally distribute body weight.
Latex Mattresses: These mattresses are made with natural or synthetic latex. They are known to last long.
Hybrid Mattresses: These mattresses combine the support of an innerspring mattress with the comfort of a memory foam or latex mattress.
Factors to Consider
Here are some things to consider when looking for a mattress.
Firmness: Some individuals prefer a firmer mattress for greater support, while others choose a softer mattress for greater comfort.
Size: A twin or full-size mattress may be enough if you sleep alone. A queen or king-size mattress may be more appropriate if you sleep with a companion.
Price: Mattress prices might vary greatly, so plan ahead of time.
Brand: There are many brands of mattresses available in Singapore. Some of the most popular ones include Dunlopillo, King Koil, Maxcoil, Sleepynight, Slumberland, Slumber Pedic, and IKEA.
Best Places to Buy Mattresses in Singapore
Now that you know what to look for in a mattress, here are the finest locations in Singapore to buy them:
Sleep Space SG: This store is an authorized seller of several mattress brands, including Magic Koil, King Koil, Maxcoil, Sleepynight, Slumberland, MyLatex, and Viro. They have a variety of mattresses to meet your budget or preferences. Sleep Space also offers free mattress consultation with their Sleep Science Consultant to help you select the most suitable mattress for your needs. Click here to book in for a free consultation. 
Ikea: Ikea is known for its affordable and quality mattresses.
Seahorse: Seahorse is a popular brand of mattresses in Singapore. Their mattresses are known to be quite comfortable.
Simmons: Simmons mattresses' combines gel memory foam and poly foam to provide a medium-firm feel.
Tempur: Tempur offers memory foam mattresses that provide generous support which is available in a range of comfort options.
Shopping for a mattress, consider the type of mattress, firmness, size, price, and brand before making your purchase.